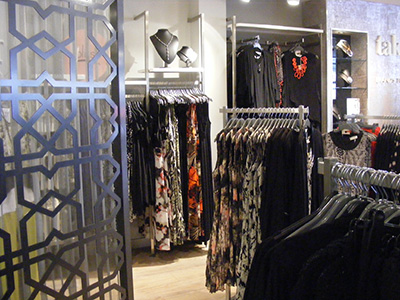 Brushed Stainless Steel Shopfittings:  Mid-Floor Gondolas, Wall Fittings, and Courtesy Screen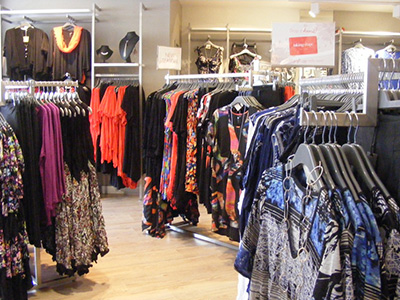 Retail Display Fittings for Ladies Fashion: Mid-Floor Gondolas and Wall Fittings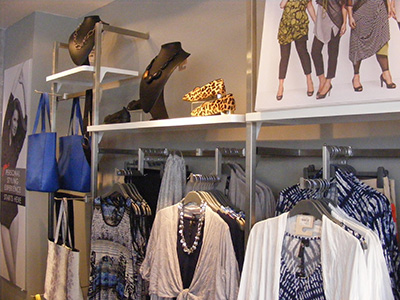 Brushed Stainless Steel Fittings to Display Ladies Fashion, Hand Bags and Jewellery.
Taking shape is an Australian plus size fashion retailer, focused on women's clothing that inspires, celebrates curves and above all, makes them feel good. They produce vibrant, bold clothing with a hint of "Aussie attitude".
Requirement: Large-scale project, 30 new stores – bespoke metal shop fittings from scratch.
Taking Shape was new to the UK, and eagerly planning its first wave of UK stores, an ambitious project, that would require a vast amount of retail display equipment. A shop fittings project on such a large scale was no mean feat; and requires an exceptional company – in Dymond, Taking Shape found an ideal partner.
The Brief: New beginnings.
Taking Shape wanted to shake things up, get back to the drawing board and start work on a new look – one that would underpin their UK transition. They wanted displays and fittings that were:
Stylish
Hard wearing
Cost effective
Easy for customer browsing and access
Versatile
Consistent with the corporate branding
Manufactured in line with the opening of the new stores
The Solution: Contemporary materials and cost effective design, with a brand-aware aesthetic.
First off, Dymond Engineering actively listened to the brief and addressed the key requirements in a series of innovative designs. One proposal was the use of brushed stainless steel in place of the chromed finish used on Taking Shape's original Chinese fittings, thus saving costs and increasing durability.
Taking Shape was impressed, giving Dymond its full UK roll out of several stores per month.
The Result: Smiles all around, a happy client – 26 new stores in 2 years.
The equipment was meticulously engineered for style, strength and value-engineered for cost-effective pricing; delivered on time and installed with a 100% success rate.
Taking Shape was delighted: 26 new stores, in 2 years, all from the ground up – with the help, and invaluable expertise of Dymond Engineering.
Dymond continued to collaborate with Taking Shape, devising new fittings and fixtures, including intricate jewelry displays. However the Taking Shape brand did not sell as well in the UK market as it does in Australia so after giving it their best shot the company decided to close the UK business in 2016.
Customer's comment: world-class shop fittings and service

Lee Turner, Director of Retail Store Development at Taking Shape, said: "It is not easy coming to a new country with the aim of establishing a new clothing brand with retail high street stores and shopping centres, plus online and retail logistics.
"The quality of shop fittings Dymond Shop Fittings has supplied are second to none and with the sometimes very short lead times, your company has never missed a deadline.
"Opening 26 boutiques in a two-year period is a task in its own and when working under such pressure it is an absolute pleasure to hear the other end of the phone continually say 'we can do that!'
"I cannot recommend your company enough for producing world-class shop fittings."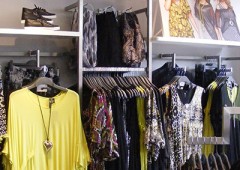 Brushed Stainless Steel Wall Display Fittings with Rails, Stepped Arms and Shelves.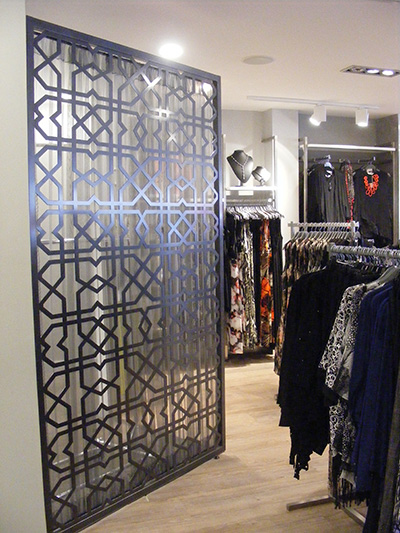 Laser Cut Courtesy Screen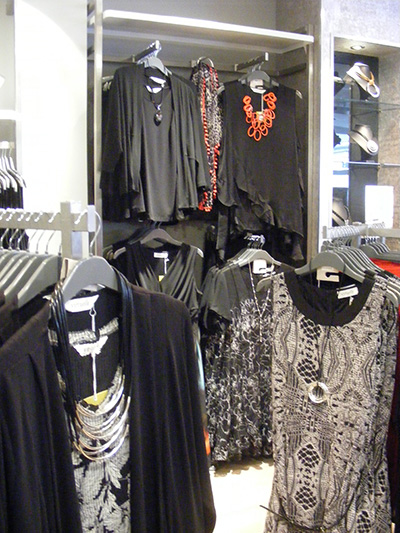 Mid-Floor Gondola and Wall Display Fittings with Straight Arms and Display Shelves.